Child Abuse More Common Than People Realize
Child abuse studies have reported some frightening statistics. 1 in 3 females and 1 in 6 males in Canada report experiencing some form of sexual abuse before age 17!
Click here to get a copy of Breaking the Silence: The Survivor's Guide to Sexual Abuse Claims
Fear and Trauma Prevents Disclosure
Many children who have been abused do not tell their parents or family members until many years after the abuse occurred (if ever). Many children are traumatized to the point that they are not able to remember the abuse until much later in life. In some cases, even if the child informs his or her parents about the abuse, the child's parents are unwilling or unable to take any steps to report the abuse.
Silence Protects the Abusers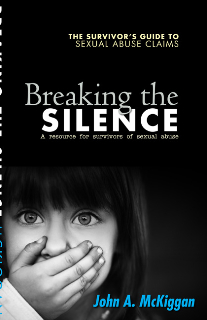 Since most pedophiles are repeat offenders, failing to notify the authorities about sexual abuse allows sexual predators to continue to subject other children to sexual abuse.
Invisible Scars: Childhood abuse almost always results in long term psychological, emotional and physical damage and can cause long terms problems including difficulty in relationships, substance abuse and loss of education and income earning potential.
You Are Not Alone: Legally, we are not allowed to say we are the Best Sexual Abuse lawyer in Halifax, Nova Scotia. No one can. You will need to judge for yourself. But before you hire a lawyer for your abuse claim; take a few minutes to watch our educational videos, order your free copy of Breaking the Silence: The Survivor's Guide to Abuse Claims or just give us a call to get some more information that may help you.
McKiggan Hebert has received significant recognition acting for victims of sexual abuse. We are sensitive to the unique needs and problems associated with childhood abuse.

We will help put you in touch with survivors of childhood abuse, victims groups and medical experts who devote their practice to dealing with victims of sexual abuse.
Map of Sexual Abuse Incidents by Priests and Clergy, 1962-Present:
Recognizing that survivors are not alone in their experience can be essential to their recovery, so we charted a history of abuse crimes by Priests & Clergy in Canada.  Please click on the map to learn more, zoom, and filter by year.  You'll see that from 1962 to today, the incidents of sexual abuse by priests and clergy are both historically and geographically widespread in Canada.
What Are My Legal Options:
A victim of sexual assault who wants to pursue the matter through the justice system has two options: the criminal justice system and the civil justice. Criminal proceedings are intended to punish an accused that is found guilty of criminal misconduct. On the other hand, civil claims for compensation are designed to address the needs of the victim. The court attempts to compensate the victim for the harm caused by the intentional, abusive or negligent acts of the defendant.  Read all of your legal options here.
Educating Survivors About Their Legal Options
John McKiggan wrote Breaking the Silence: The Survivor's Guide to Abuse Compensation Claims to answer many of the common questions survivors have about criminal charges, lawsuits and what the court can do to help survivors of childhood abuse.
Contact Us If You Need Help!
If you or your family have suffered as a result of childhood sexual abuse, you can call McKiggan Hebert toll free in Atlantic Canada at (877) 423-2050 or contact us online for a free copy of John McKiggan's book, The Survivor's Guide to Abuse Compensation Claims. For more information you can also take a look at John McKiggan's Sexual Abuse Claims Blog.
Sexual Abuse Resources:
Cases We've Handled:
Cesar Lalo (former NS probation officer): Lalo is one of Nova Scotia's most prolific serial sexual abusers. He was convicted of sexually assaulting 29 boys from 1973 to 1989 while working as a probation officer and social worker with the province of Nova Scotia. He was sentenced to nine years in prison.
Karl Toft (former Boy Scout Leader and former Kingsclear guard): Toft is a convicted sex offender and pedophile who admitted to an estimated 200 sexual assaults while he was working as a guard at the Kingsclear Youth Training Centre in Kingsclear, New Brunswick. Toft also volunteered as a Scout Leader with Boy Scouts Canada. Scouts Canada removed him as a Scout Leader in 1972 after a picture surfaced of a nude scout member taken in Toft's camper. Toft was convicted of 34 sex-related charges and in December 1992 he was sentenced to 13 years in prison.
George Totten (former Boy Scout Leader): George Totten was a Boy Scout Leader in Saint John New Brunswick for almost 30 years.
Walter Larry Belyea: Former Woodstock New Brunswick police officer. Belyea served with the police force for 11 years. Belyea was convicted of three counts of sexual assault and sentenced to 3 months in jail and 11 months probation for sexual assaults against 3 boys under the age of 17.
Recent Cases in Canada: