Brian Hebert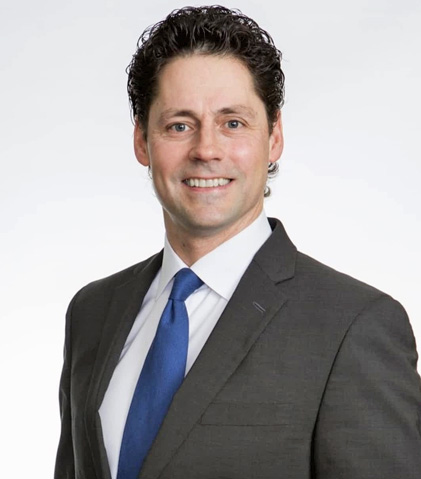 Partner
Phone: (877) 423-2050
Fax: (902) 423-6707
Email: bhebert@mckigganhebert.com
1959 Upper Water St #502
Purdy's Wharf Tower 1
Halifax, NS B3J 3N2


Economics & Business Law Background
With an economics and business law background, Brian helps our personal injury clients prove their economic losses which is good news for injured business owners and professionals. But Brian is not just a numbers guy by any means. We've seen him single-handedly take on insurance companies in wrongful death trials – and win. He loves jury trials – something about "common sense" and "ordinary people always getting it right." He hasn't lost a jury trial yet, but he has lost several pounds during each trial. It's a lot of work. Luckily he runs and cycles to work to keep up his stamina for longer trials. He also has a standing desk at the office.
Brian is particularly proud of the fact that he and the team at McKiggan Hebert were named  one of the Top 10 Personal Injury Law Firms in Canada by Canadian Lawyer magazine. McKiggan Hebert was the only firm in Atlantic Canada to receive this prestigious recognition.
Outside the courtroom, Brian likes to keep his business law skills sharp too. He says the two areas of law are complimentary, like when you need to prove the impact of an injury on business profits, or when learning to draft airtight contracts by seeing one ripped to shreds in court. Strong advocacy and communication skills are vital to both. That explains why, after forming a personal injury law firm with his law partner, John McKiggan, Brian continues to represent a select number of business owners and professionals, many of whom have been clients for over 20 years. Brian stays with clients through thick and thin and has overseen the purchase and sale of multiple businesses. With the utmost respect and admiration for entrepreneurs, Brian even partners with some clients by providing start-up and early-stage legal services in exchange for equity in their business.
Brian believes strongly in the future of our Indigenous communities and in environmental responsibility. As a student Brian spent many hours in Pictou Landing First Nation and Paqtnkek Mi'kmaw Nation as a volunteer. Even as a law student Brian researched the law of Aboriginal title and studied environmental law. These two interests came together in 2006 when Brian was retained by the Pictou Landing First Nation on an historical environmental and s.35 infringement case relating to the infamous Boat Harbour treatment facility. After several years of failed negotiations, Brian launched a civil lawsuit against the Province of Nova Scotia and Northern Pulp Canada Corporation. The case is still ongoing, but in 2014 the Province passed the Boat Harbour Act to end the use of Boat Harbour as a treatment facility by January 30, 2020. Brian also advises Chief and Council on business and governance issues. He sees enormous potential for the Mi'kmaw Nation to positively impact Nova Scotia in the area of environmental responsibility and economic development.
---
Education
Brian graduated from Dalhousie Law School in Halifax, Nova Scotia in 1988. Prior to law school, Brian attended Saint Francis Xavier University where he earned recognition for academic excellence while pursuing a Bachelor of Arts with Honours in Economics and was elected to both the University Senate and Board of Governors.
---
Bar Societies
---
Professional Memberships & Offices
Canadian Bar Association (CBA), Member – 1989 to present
CBA Aboriginal Law Section, Nova Scotia Branch President – 2010 to 2012
CBA Aboriginal Law Section, National Executive Committee – 2010 to present
CBA National Aboriginal Law Conference, Co-Chair – 2016
Atlantic Provinces Trial Lawyer Association (APTLA) – member 2001 to present
APTLA, Board Member – 2009 to present
APTLA Chair Education Committee – 2009 to present
The Advocates' Society (TAS), Member – 2013 to present
TAS Train the Trainer Program, Skills Trainer – 2015 to present
---
Current Community Activities
L'Arche Halifax
Brian has been a member of the Board of Directors of L'Arche Halifax since 2008 and has served as Chairman of the Board since 2009. L'Arche Halifax is a member of the L'Arche International Federation which was started by Canadian, Jean Vanier, in 1965 when he welcomed two men with intellectual disabilities to leave the institution they were in and live with him. From Jean Vanier's home in Trosly, France the idea of people living and sharing life with people with intellectual disabilities has spread to hundreds of homes in 135 countries around the world. The L'Arche Halifax homes were established in 2010.
Nova Scotia Assessment Appeals Tribunal
Brian has been a sitting member of Nova Scotia Assessment Appeals Tribunal since 2013. The NSAAT hears appeals from Nova Scotia property owners from the annual property assessments. Brian applied for an appointment to NSAAT in the spirit of public service and to see advocacy from the perspective of the decision maker. Brian says that he now has a deeper appreciation for the role of judges, juries, and arbitrators and this has made him a better advocate.
East Coast Environmental Law Association
Brian has been pleased recently to accept a position on the Board of Directors of the East Coast Environmental Law Association. ECELAW envisions a future where innovative and effective environmental laws and the fair application of those laws, provide Atlantic Canadians with a clean, healthy environment, which will make a positive contribution to the quality of life of its present and future inhabitants and visitors. Brian is excited to help work of this long standing environmental organization.
---
Philosophy
No one knows why Brian takes on some of the cases he does, perhaps not even Brian himself. We all need to earn a living, but money is not Brian's prime motivation. If it were, he would not have taken on many of the clients and cases that he has. Publicity and fame aren't the reasons either. Having been involved earlier in his career in the high profile Westray Mine Public Inquiry into the deadly coal mine explosion (he represented all of the families of the 26 victims throughout 75 days of public hearings) he'd rather work quietly out of the spotlight.
Brian believes it is important to make the world a better place. No effort big or small is wasted. Helping people seems to be his "Prime Directive." He cannot resist a challenge. He will not cut corners. He approaches each case as if it is going to court. Gathering evidence, doing research and obtaining the expert opinions needed to prove wrong doing and calculate losses is the only way to ensure that clients get the outcome they deserve.
Brian started at legal aid. He later joined a small litigation firm taking on some big cases: mining disasters, Aboriginal rights, and wrongful death. When the firm's principal relocated to Toronto, Brian chose to stay in Halifax and start his own firm. He was an early adopter of practice management, remote access, and voice activation software to keep fees down and improve response time. Not content to simply help people after they were injured, Brian once teamed up with a local Highway 101 activist to lay private charges against the Nova Scotia Minister of Transportation under the Occupational Health and Safety Act for failing to twin the infamous Highway 101. The Provincial government of the day was not impressed.
Brian's firm grew and in 2009 he merged his practice with a larger law firm. While at that firm Brian took on a wrongful death case involving a deceased artist. Against the advice of senior counsel, Brian pressed the family to reject the insurance company's offer and proceeded to a jury trial. He felt that a jury would provide justice to the family. He was right. The jury returned a verdict for almost twice as much as the insurer had offered. It was during that trial that Brian decided to return to a small firm practice where he was freer to take on larger cases on a "no win no fee" basis and to continue to take on cases that might not be as lucrative but cried out for justice.
Brian was fortunate to team up with like-minded lawyer, John McKiggan, to found McKiggan Hebert in 2013.