In 1973, the Government of Nova Scotia hired Cesar Lalo as a youth probation officer and child welfare worker. Allow as convicted of sexually abusing at least 29 young people and children between 1973 and 1989, all but two of whom were in his care.
However the huge number of convictions is just the tip of the iceberg.
Notably, "the Crown did not prosecute all the cases against Lalo, stopping after they had enough convictions to get the long-term offender designation." Lalo was incarcerated for those convictions.
Statistics show that up to 88% of sexual assault victims do not report the crime to police. So the actual number of Lalo's may never be known.
History of Criminal Charges
In 1993, Lalo began serving a nine-year sentence for seven offences, and in 2003 he was convicted of fifteen additional offences. The court heard evidence that the police were aware of accusations against Lalo long before his initial arrest, and that they reported their investigation to an official in the Department of Community Services. However, no action was taken for as long as four months.
Ten years prior, parents had complained of inappropriate activity on the part of Lalo, but evidence at the trial indicated no system for tracking such complaints existed at the time.
In 2009, Lalo was released with a plan for ten years supervision, but in 2011 he was re-arrested on a breach-of-probation offense (possession of child pornography). Criminal courts failed to adequately prevent Lalo from engaging in further criminal activity. At present he lives in a halfway house somewhere in Ontario and is eligible for overnight passes.
So where is there justice for victims of childhood sexual abuse? If it's not to be found within criminal law, we must look to civil suits for satisfaction.
Lawsuits filed for compensation for sexual abuse
Determining compensation for victims of sexual abuse is no simple matter. Tenacious legal representation is often required, such as in the case of one of Lalo's victims, LLM.
In February 2010 the victim was awarded $375,000 in damages.  The judge stated, "What is the long-term difference between the life he has today and one he might have had, if the probation officer he met was an honourable and decent man. LM's life changed dramatically for the worse after he passed through that sliding glass door into Caesar Lalo's "care" at the age of 13."
After an appeal, including evidence from the victim's psychologist, the courts awarded him a further $60,000 to cover counseling support. In Lalo's case, complainants sought redress from the Crown due to the fact that Lalo was employed by the Justice Department at the time of the offenses.
Determining Liability
Courts in Canada follow reasonably strict guidelines in determining whether or not an employer of a perpetrator will compensate an abuse victim. Known as vicarious liability, the determination involves examining whether or not the abuses occurred in the workplace, and to what degree the employer created a power relationship that an  abuser was able to use to commit sexual abuse.
Courts now rely on the Bazlye Test, referencing the Supreme Court of Canada's ruling in Bazley v Curry.
In determine whether an employer will be vicariously liable for acts of sexual abuse by an employee the court will consider the five following factors:
The opportunity that the enterprise afforded the employee to abuse his power;
2. The extent to which the wrongful act may have furthered the employer's aims;
3. The extent to which the wrongful act was related to friction, confrontation or intimacy inherent in the employer's enterprise ;
4. The extent of power conferred on the employee in relation to the victim; and
5. The vulnerability of potential victims to wrongful exercise of the employee's power
Determining compensation
The Bazley Test focuses attention on the employer's relationship to the crime. It is as important, however, to consider the impact of the crime on victims in determining an appropriate level of compensation.
For a detailed explanation of how compensation is calculated in personal injury claims take a look at this article: What's my claim worth? Calculating damages in personal injury claims.
Why Compensation?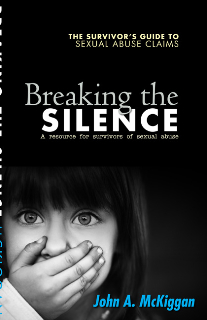 Victims of childhood sexual abuse often experience negative consequences that persist throughout their lives. This may include diminished capacity for employment and loss of income, relationship struggles, anxiety, depression, suicidal ideation, physical injuries, self-harm, drug or alcohol addictions, and myriad other consequences that are not always easy to anticipate or resolve. For this reason, compensation is sexual abuse cases must account, to some degree, for the unknown.
Seeking effective counsel, from a well-respected legal team with a history of expertise in supporting victims, and securing substantial and fair compensation is a critical part of the healing process for many victims. Learn more about the process by reading this guide: Breaking the Silence: The Survivor's Guide to Abuse Claims. Nova Scotia lawyer and author John McKiggan Q.C. explains how civil and criminal courts support victims.  The guide is available free, and gives you the opportunity to you're your questions about the options available to you answered with complete privacy.
When you are ready for help, contact McKiggan Herbert Lawyer. They restore peace of mind to victims of childhood sexual abuse, and have decades of experience handling sensitive information with compassion and integrity.