Satisfaction Guaranteed—or it's free!
We are so confident in the services we provide to our clients that we offer a 100% satisfaction guarantee. If you decide you want to hire us for your injury claim and we agree to represent you, we provide a written satisfaction guarantee!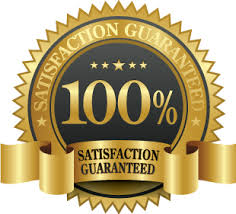 There is no law firm in Atlantic Canada (or the rest of Canada for that matter) that we are aware of that offers a similar guarantee in writing!
Some firms say they are "committed" to client satisfaction. But what does that really mean?
At McKiggan Hebert, we are so committed to providing you with superior personal injury legal services that we offer a 60 day 100% Satisfaction Guarantee on all of our contingency fee cases.
If you are not 100% satisfied with how our firm treats you in the first 60 days, we will return your file with no fees, no additional costs, and no questions asked!
What have you got to lose? Call or email us today!
Our Commitment:   At McKiggan Hebert, we only take cases that we truly believe have merit and meet our rigorous selection criteria. When we commit to your case, our whole team works together on your behalf to achieve the best result in the most favourable time frame.
A Trusted Source of Legal Information

Our ability to go above-and-beyond in providing exceptional legal services for you and your loved ones is simply unmatched. We are proud to have been recognized by several national organizations for these services, and we have a proven record of success representing cases in Halifax, Nova Scotia, and throughout Canada.
With our team's legal expertise and careful attention to detail, we are dedicated to providing you with the answers you need—and helping you receive the compensation you deserve!