Is The Watch Tower Society covering up child abuse?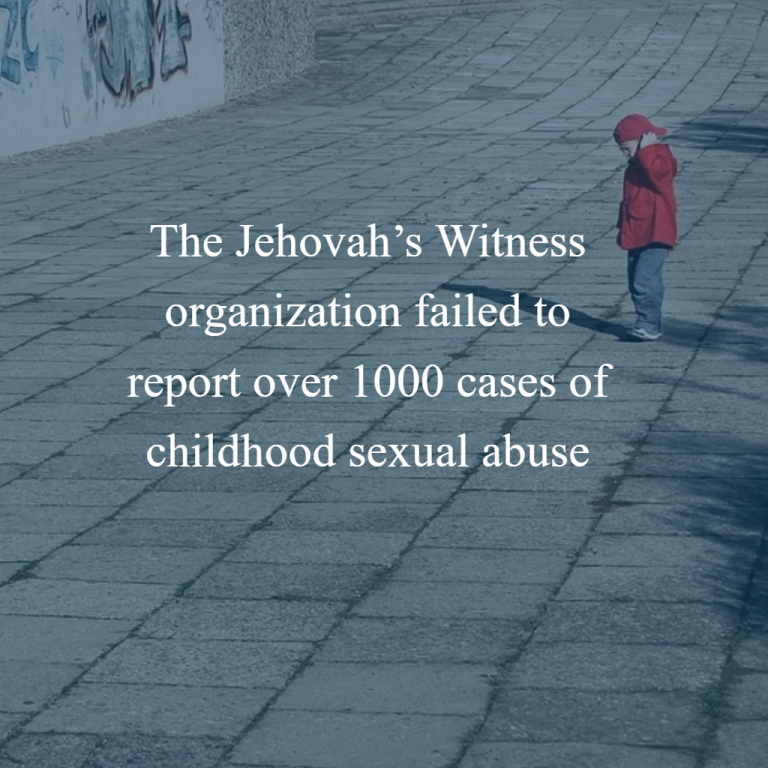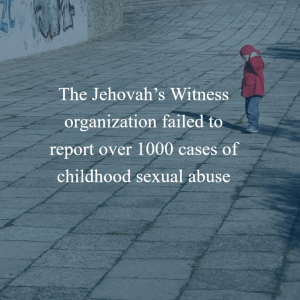 A recent Royal Commission in Australia investigation Jehovah's Witness sexual abuse raised concerns the Jehovah's Witness organization (JW) failed to report over 1000 cases of childhood sexual abuse. The Commission determined since 1950, JW Australia received 1,006 allegations of child sexual abuse against JW members. The JW organization did not report a single allegation to the police as required under Australian law.
Few Jehovah's Witness sexual abuse stories are heard outside of the JW's internal judicial systems. Without legal representation, few Jehovah's Witness sexual abuse victims ever receive appropriate compensation for their trauma.
Who are the Jehovah's Witnesses?
Jehovah's Witnesses are a religious group that claims a world-wide membership of 8 million. According to the JW's website there are over 100,000 JW members in Canada.
The organization promotes belief in a pending Armageddon, and the sanctity of the bible (as interpreted by various publications from the Watch Tower Society including Awake and The Watchtower). While women members may be ordained in the church, it is male elders who completely control decision-making, and are at the head of the organization's strict hierarchy.
Male dominated hierarchy
The congregation of each Kingdom Hall is governed by a council of four to five male Elders appointed by the Watch Tower Society. Elders completely control the congregation including forming so-called "judicial committees" to investigate and decide all disciplinary action in cases where JW members are believed to have committed sins.
JW members are required to provide absolute obedience, and defer to, Elders in all matters.
JW Elders are granted enormous power within the Society over other Witnesses.
Failure to follow the directions of congregation Elders can result in a member being disfellowshipped from the Society and having all contact with family members and friends who are JW's cut off.
JW policies about sexual abuse are problematic
Jehovah's Witness sexual abuse policy requires Witnesses and Elders to keep any allegations of sexual abuse involving a Witness absolutely confidential.
The organization requires Elders to keep a record of all Jehovah's Witness sexual abuse allegations by or against a Witness. Elders must provide a report of the abuse allegations to the Watch Tower head Office.
Society policy discourages Elders from reporting allegations of Jehovah's Witness sexual abuse directly to secular authorities as required by provincial statutes. Instead the Society requires that Elders report allegations to the JW legal department.
Jehovah's Witnesses discriminatory and traumatic internal disciplinary process re-victimizes abuse survivors
The recent Australian Royal Commission identified problematic policies and practices that endanger victims of Jehovah's Witness sexual abuse and discourages reporting of abusers:
The JW organization prefers its own interpretation of biblical authority over civil legal authority, and scientific evidence;
The JW organization does not have a practice of reporting child sexual abuse to police or any other authority;
A survivor of child sexual abuse is required to make their allegation in the presence of their abuser; based on the JW's biblical interpretation of Matthew 18:15 "If your brother commits a sin, go and reveal his fault between you and him alone."
If an accused abuser does not confess, there is an inflexible requirement that there be two eyewitnesses to the child sexual abuse because of the JW's interpretation of Deut. 19:15 "There must be two or three eyewitnesses, not just people repeating hearsay." and John 8:17 "No action can be taken if there is only one witness.";
Women are not allowed to participate in the JW's internal "judicial" committee;
The JW organization has no clear provision for abuse survivors to be accompanied by a support person during the JW's internal "judicial" process;
The JW organization has limited and ineffective risk management practices.
Finally, and perhaps most damaging, Jehovah's Witness sexual abuse victims who choose to leave the organization in the wake of their abuse are shunned (disfellowshipped).  For victims of abuse this means social, and cultural banishment just when the abuse survivor is most vulnerable.
Abuse Cases Around the Globe; Jehovah's Witnesses failed to report
Here are few examples of recent Jehovah's Witness sexual abuse claims:
Canada:
In Montreal Melanie Poirier was sexually abused by a JW Elder for five years. She didn't have a second witness to the abuse so she knew her complaints would be dismissed by the judicial committee of Elders. Melanie finally found another JW member who was also abused by the Elder. She brought her complaints to the JW's internal judicial committee. Although the Elder that abused her was expelled from the congregation, he was not disfellowshipped and joined another JW congregation.
In Newfoundland, allegations that a former JW elder sexually assaulted and exploited congregants emerged beginning in 2009. A second assailant, and son of the first, is also charged with sexual assaults occurring between 2011 and 2013.
Australia:
The recent Royal Commission in Australia investigating institutional responses to child sexual abuse determined the Jehovah's Witness organization demonstrated a "serious failure" to protect children from the risk of sexual abuse.
The Commission determined that the Watch Tower Organization in Australia received more than 1,000 complaints of Jehovah's Witness sexual abuse. Australian law requires all complaints of possible child abuse be reported to authorities. The Jehovah's Witnesses did not report a single complaint to the police or child protection services.
The Commission concluded: "The sanctions available within the organization's internal disciplinary system are weak and leave perpetrators of child sexual abuse at large in the organization and the community…"
United Kingdom:
Courts in the U.K. found that "the Jehovah's Witnesses had failed to protect a woman… from sexual abuse starting when she was four years old." In this case, the high court awarded damages to the victim. In 2014 a commission was formed to investigate how charities handle claims of sexual abuse. The Jehovah's Witnesses organization has refused to cooperate with the Commission's investigation.
United States:
In a shocking California case, a church member who had previously confessed to sexually abusing a child was assigned duties with another child, who he subsequently also abused. The victim, only 7 years old at the time of the abuse, was later rewarded $13.5 million in damages.
In Pennsylvania, a member of the Spring Grove Jehovah's Witnesses church "pleaded guilty in York County Court in 2012 to charges of indecent assault of a person less than 16 and corruption of minors," and the victim later sued the organization for failing to report the abuse to authorities according to their legal obligation.
Superior and Supreme Court rulings in the US have made repeated requests for documents that are part of a decades-old database of Jehovah's Witness sexual abuse activity kept under lock and key by the JW organization. The JW organization has refused to obey court orders.
How Many Canadian Victims Are There?
Due to the JW organization's secrecy and negligence in reporting, the actual number of cases of sexual abuse or assault among Jehovah's Witnesses worldwide are not available.
However, according to the Watch Tower Society there are approximately twice as many JW members in Canada as there are in Australia. If Australia's 2016 Royal Commission is any indication (they found unreported child sexual abuse allegations against 1,006 members), the potential number of Jehovah's Witness sexual abuse victims in Canada is staggering.
Resources for Jehovah's Witness sexual abuse victims
Reporting incidents of sexual trauma, and pursuing damages for the emotional suffering is understandably difficult, but support is available. Perpetrators can face criminal charges as well as civil claims for compensation.
Consumer Education Guide: John McKiggan Q.C. wrote the first consumer education guide in Canada specifically for survivors of sexual abuse. Learn about your rights, and get answers to some common questions about the legal options available to sexual abuse survivors by reading: Breaking the Silence: The Survivor's Guide to Abuse Claims. You can download a free copy of the Guide here or you can call us toll free at 888-510- 3577 and we will send you a print copy at no charge.
Directory of Services: Sometimes the effects of childhood abuse can leave a survivor overwhelmed and in need of professional counselling.  That is why we have compiled the Maritime Directory of Services for Survivors of Sexual Abuse.   We prepared the Directory to help abuse survivors find a support person they can work with in their path to recovery. The Directory also provides some tips on where to access funding for counselling services.
Need some legal advice? The Team at McKiggan Hebert have decades of experience successfully representing  victims of historical sexual abuse.  It's important to understand that a claim may be able to be filed for abuse even if it happened years in the past. Survivors of childhood abuse deserve appropriate compensation for their suffering. If you, or someone you know has been victimized, break the silence and contact us for more information.