Kate Meagher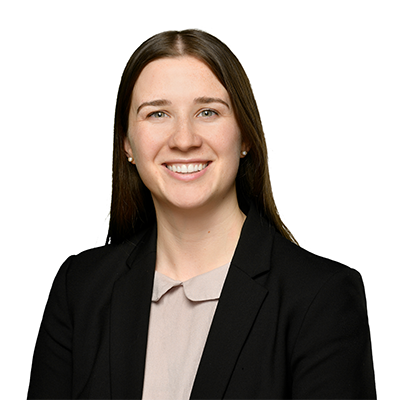 Kate was born in Burlington, Ontario, and came to Nova Scotia in 2017 to attend law school at Dalhousie's Schulich School of Law. Like many before her, since arriving in Nova Scotia Kate has found a welcoming community and chosen to make her home here.
Prior to law school, Kate earned her Bachelor of Arts at Queen's University, majoring in Philosophy and minoring in English. Kate went on to earn a Master's degree in Philosophy also at Queen's University. Her research considered the ethics of using genetic modification to enhance athletic performance.
While in law school, Kate was active in the Environmental Law Student's Society, which she co-chaired in her second year. Kate also volunteered as a pro bono student with East Coast Environmental Law for all three years of law school, which she found to be a particularly enriching experience. Kate graduated from law school in 2020 with a certificate in Environmental Law. Kate was the recipient of the Elizabeth May Award for Environmental Public Service and the Edward C. Foley Prize, awarded yearly to a student enrolled in the Marine and Environmental Law Program who achieves high academic performance and demonstrates a commitment to public and community service related to the environment.
After graduating, Kate articled at Ecojustice, Canada's largest environmental law charity. Kate was lucky enough to work in the Halifax office and was grateful for the opportunity to work locally on issues that remain very close to her heart. While articling, Kate had the chance to spend a month working at McKiggan Hebert on a secondment. Kate is pleased to have stayed at McKiggan Hebert after articling where she can continue to do meaningful work and expand her practice. Kate was called to the bar of Nova Scotia in 2021.
Outside of work, Kate is a competitive weightlifter and holds a volunteer position as a member of the board of Nova Scotia Weightlifting. Kate is also the Policy Lead at Fashion Revolution Canada, a national organization that works to improve the ethical and environmental practices of the global fashion industry. In her spare time, Kate sews, knits, and mends clothes for herself and her loved ones.